Tuan (Wilderness Medicine)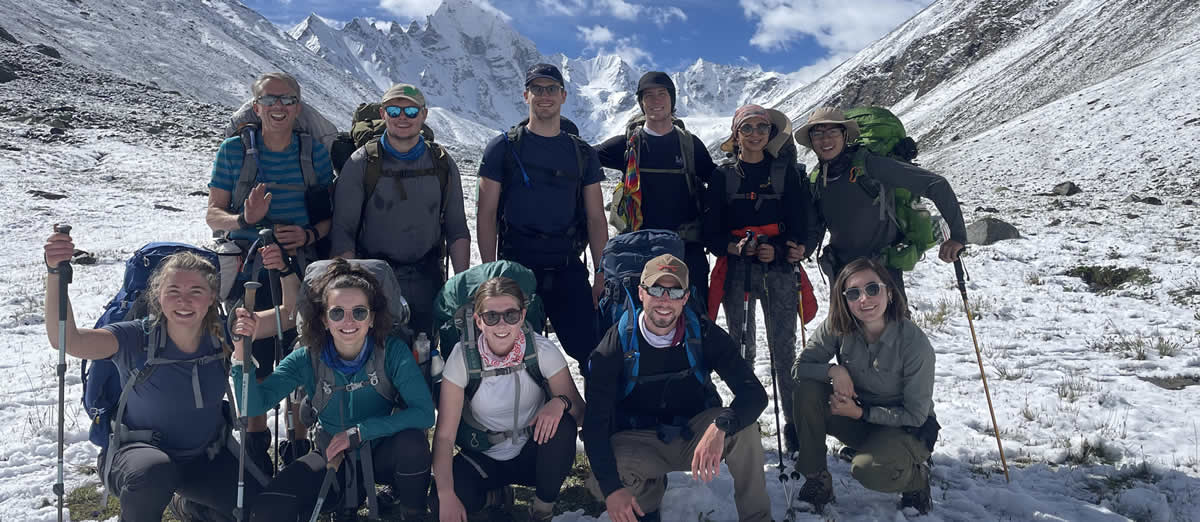 This expedition provides a comprehensive introduction to emergency and wilderness medicine that serves to enhance your practical experience. A team will consist of 25-30 residents, seasoned medical practitioners, and students at all levels of health sciences who will participate in this base camp-style expedition to the remote valley of Sainchu, a lesser-known region of the western Himalayas. Field time, patient simulations and hands on learning in a resource-constrained environment follows didactic lectures, case presentations and group discussions.
During the trek, you will be required to carry your own backpacks and cook your own meals. In addition to personal items, each backpack will include a small tent, rations and fuel with total weight of approximately 35 pounds (tents, rations and fuel will be supplied.)
Location 
Camp sites are located in the Sainchu Valley located in the North Indian state of Himachal Pradesh, which lies between two towering ranges in the Western Himalayas known as 'Pir Panjal' and 'Zanskar.' Due to extreme remoteness, there is little or no recognition of this region on maps.
Route
Your port of arrival in India will be the New Delhi international airport. An internal flight from New Delhi brings you to Chandigarh where our staff receives you at the airport and drives you to our first base camp at TUAN settlement.  Take in the sights and sounds of India as you drive through the plains of India and across the Greater Himalayan Range.  Ample time has been built into the itinerary for you to recover from jetlag and acclimate on this fascinating drive through three Himalayan ranges.  A challenging, vehicular road takes you across the Greater Himalayan Range to a thickly forested and isolated valley that sits between the two staggering Trans-Himalayan ranges – Pir Panjal and Zanskar. You will arrive at the base camp at village Tuan (9,400 feet), which sits at the junction of two glacier-fed streams. Spend 8 full days exploring the valley, attending lectures and clinics and head out for a 4-day self-contained trek to the base of Pimu La Pass.
Trek and Terrain
The 4-day, self-contained trek starts at 9,400 feet and reaches a maximum altitude of 15,000 feet with minimal external support. Be prepared for a few hard hikes on a trail that is used by local sheep herders. A steep ascent through a high pastureland and an unmarked trail through a large boulder field take us to the base of Pimu La, where the valley opens up and with some awe-inspiring views of the granite peaks of the mighty Zanskar Range. After a night of camping at 15,000 feet, descend back to the base camp at Tuan.
Elective credit
Medical students and residents who participate in our medical camps may receive elective credit from their schools and residency programs. Check with your academic office to see if this experience will count towards an elective block. At the end of the expedition, each student and resident will be formally evaluated and provided a completed evaluation form from one of the physician instructors.
NOTE: You must be in excellent physical shape and be able to trek at high altitudes. The trek between the two base camps is self-contained which means you will be required to carry your own backpack and participate and prepare your own meal with your group of 4-5 people at least once daily during the 4-day trek. Please take time to grasp the reality of this and conduct a personal inventory on yourself before signing-up.
For a detailed itinerary with cost and more information please contact us