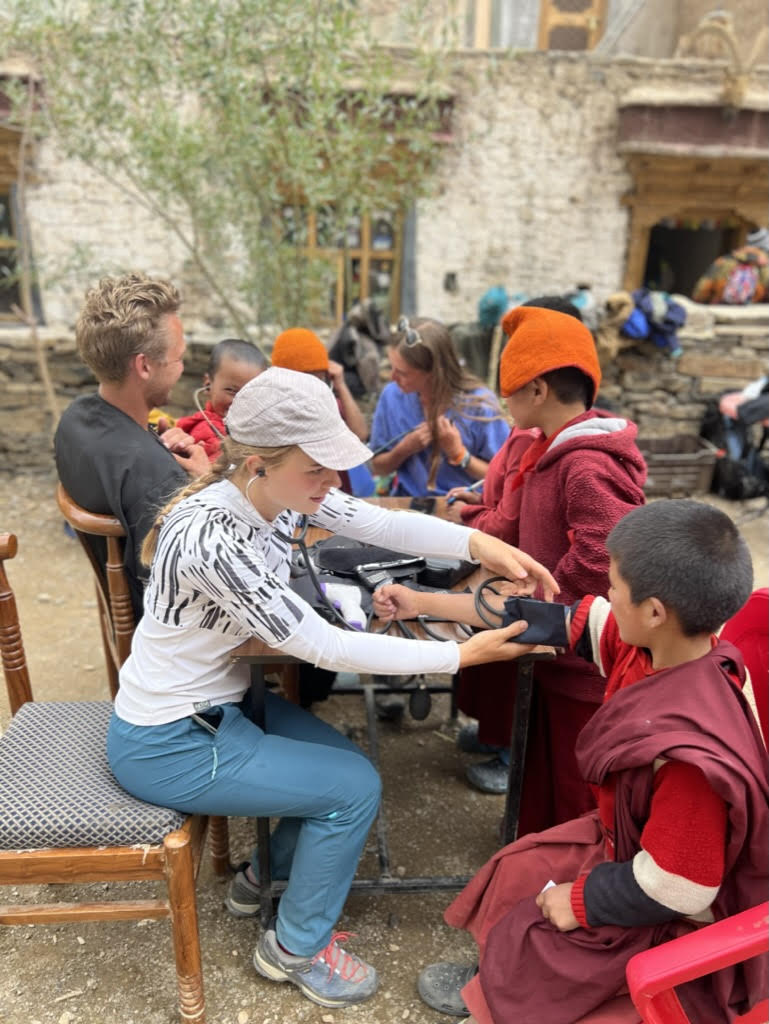 Joining the Kargiakh trip after my first year of medicine at the University of Oxford in 2022, I figured I would spend a fun month in the mountains, meet some other students and primarily observe during clinics, since I hadn't received much training yet. The opposite turned out to be true and in a caring and fun way, the doctors and older students on the trip taught my everything I needed to know to make an active contribution. Beyond clinical teaching, we discussed topics of public and global health and learned about wilderness medicine and aspects of northern Indian, Tibetan and Buddhist culture. Looking into other global health projects this summer, I couldn't find any programme that could compare in terms of the immersion into the local culture and the amount of hands-on experience you receive, so I decided to come back for the 2023 Spiti trip. Compared to the hiking and camping heavy Kargiakh trip, in Spiti we had even more clinic days and often saw over 100 patients a day, while still finding time for long hikes up the mountains of Spiti valley and tours of monasteries, which without HHE would've been impossible for me to ever visit. Providing basic healthcare in areas of the world, in which medicine is fundamentally viewed differently, is as challenging as it is rewarding. We had to work around language barriers, lack of long-term follow-up and resources. During my time at HHE I learned as much about myself and what values and amenities such as running water and electricity matter to me, as about medicine and made some of my closest friends in the process. On my trip last year a few members got ill with COVID-19 and altitude sickness, and this year we struggled with route changes due to flooding and landslides, however, the incredible team at HHE always kept us safe, (unbelievably!) well-fed and happy. I'd recommend a trip with HHE for anyone from Pre-med student to qualified doctor and I will certainly come back for more.
Dorothea Stark
MS 3- University of Oxford, UK
Kargiakh 2022
Spiti 2023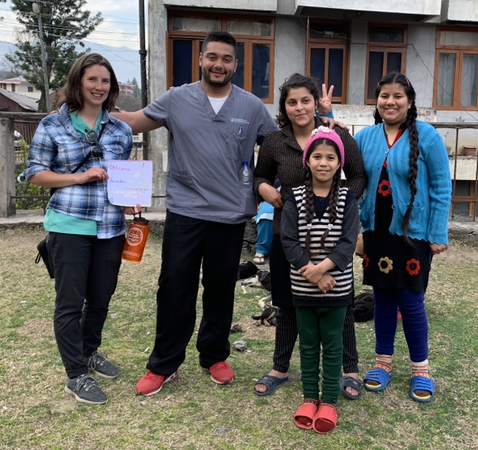 As a recently graduated medical scribe from Orange County, NY I was honesty apprehensive to join the Outer Himalayas trip. I had never done a humanitarian mission before and being that I've only ever traveled leisurely, this was way out of my comfort zone. I felt compelled to drop out at the last minute but I kept running the adage "fortune favors the bold" over and over again in my head to motivate me to go. All my reservations melted away as soon as I met my group outside of the Indira Gandhi airport. We hit it off immediately and this amazing synergy carried not only through the trip but also well past it. This was the most rewarding trip I have ever taken in my life. We helped 2,250 amazing patients while taking in the beautiful views the Himalayas offered and forging unbreakable bonds. I'm already planning my next trip with HHE and I hope to one day lead trips with them when I'm a physician. I would recommend HHE to anyone, any day. I know it seems scary but remember, fortune always favors the bold!
Devin Keith
Pre-Med
Outer Himalayas 2020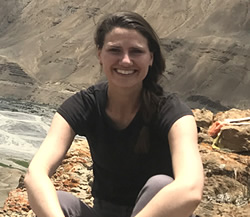 The insights I gained from the Spiti medical expedition will change the way I approach and practice medicine throughout my career. I had opportunities to gain meaningful hands-on clinical experience and one-on-one supervision I wouldn't have had elsewhere, in a breathtaking setting, where I felt we were really making a difference. HHE's whole team were thoughtful, kind, and organized, and the accommodations, meals, and cultural experiences were excellent. I will absolutely be returning for another elective with HHE!
Jenny Sanford, USA
Nursing student
Spiti 2018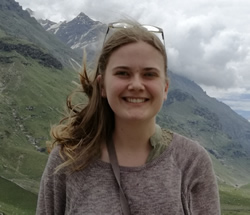 I can't thank you enough for everything you and Himalayan Health Exchange have done for me over the last few months. Your help with the preparation for the trip was invaluable and very reassuring. The trip ran so smoothly and was honestly one of the most incredible experiences of my life. I gained so much clinical experience, in a beautiful setting, with a wonderful group of people. It was an absolute pleasure meeting everyone on the team, and a pleasure to be a part of such a wonderful and important organisation.
I really would look forward to coming back on another Himalayan Health Exchange trip in the future! If all goes smoothly, I should be practicing as a doctor by this time next year, and would love to come back in a few years once I have some more experience
Ilana Gluck
MS5-Univ of Leeds, UK
Spiti 2017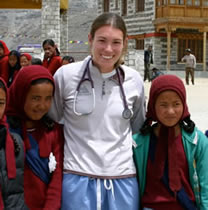 My experience on the Spiti trip, in the sparsely populated and beautiful Himalayan region of Northern India, in June of 2012 with Himalayan Health Exchange was rewarding, eye-opening, and all around incredible. The physicians on the trip taught in a hands-on style that allowed us to practice interacting with patients, learning about diseases common to India, taking histories and physicals, and writing SOAP notes. After sitting in the classroom all year as a first year medical student, the trip re-energized me. I feel that my time in India strengthened my cultural awareness, compassion, and ability to work as a team member. Logistically, HHE is organized, efficient, and was thoroughly prepared the entire trip. I cannot wait to return on another trip as a physician.
Ashley Hock
Arizona College of Osteopathic Medicine, 2015
Spiti trip June 2012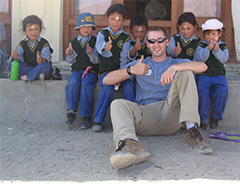 I wanted to share with you my feelings regarding the HHE Chang Thang Trip, which took place between the dates of July 16th and August 3rd, 2009. I can say without question that this was a life-changing journey that not only allowed me to develop as a medical student and future physician, but also as a human being. I learned so much during the program, and I was so fortunate to have the opportunity to participate. The communication from you and other HHE staff prior to the trip was amazing, and the organization of the trip itself was impeccable. Never in my life have I made such an impact on so many patients, while making new friends, while enjoying the beauty of the world around me all at the same time! I look forward to participating in HHE in the future, and hope that other students like myself can benefit (both themselves and the people of India) as well. Aristotle once said that "where your talents and the needs of the world cross lies your calling." My experiences in India this past summer have most definitely rejuvinated my passion for medicine and I now look forward more than ever to the road ahead…
Rob Cantor
Indiana University, Class of 2012
Chang Thang 2009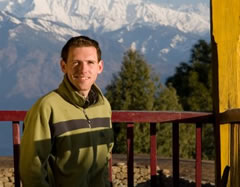 The mission I was part of was to the outer Himalayas in the northern state of Himachal Pradesh. The population of Himachal is just over six million, made up of various cultures including Hindus, Muslims, Sikhs, and Buddhists.We had over 14 camps at seven different sites in the northern province of India. At each site we set up tents that were used to treat patients for medicine, pediatrics, OB/GYN, and dental. . Villagers would come from the local surrounding areas to seek treatment as well as the monks of the monasteries that we set up in. Throughout our time there we saw over 2,500 people. We went to such remote areas in the northern state of Himachal Pradesh that you wondered if cars ever came up here as you climbed steep mountain sides.

My experience with Himalayan Health Exchange was unbelievable. Simply amazing!

The organization was run so well. The history of how the organization came to be is quite fascinating.
Treating Abroad (an article written by Frederick Davis
Frederick Davis, DO
Participant 'Outer Himalayas' 2008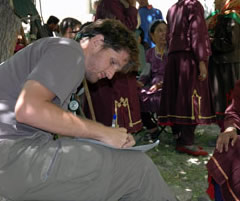 Comparing my experience in Kargiakh with other clinical programs in the developing world, Himalayan Health Exchange is far and away the most organized. At HHE, the dignity and well-being of the patients being treated comes first, as evidenced by organizers encouraging a strong sense of professionalism and a developing real methods for follow-up care. The clinical learning opportunities are many and rich, the lands we visited were beautifully situated at the top of the world, and the fond memories I have – even 2 years after completing the program – powerfully affect my life today.
Erik Stoltenberg, MS4
University of Chicago (USA)
Kargiakh 2005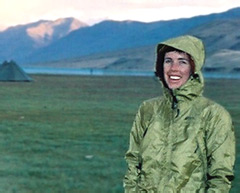 My experience in Ladakh was a 'once in a lifetime' opportunity, though I would prefer to think of it as the inspiring first step on an exciting, lifetime journey in international health. The HHE team took amazing care of all of us participants in terms of our health and comfort. The clinical aspect was on par with a rigorous Canadian placement, and the cultural and recreational opportunities were ample. Thank you, Himalayan Health, for an amazing and enlightening experience in India!
Bonnie Larson
Medical Student 1
McMaster Univ – Canada
Chang Thang Ladakh 2004
I just wanted to thank you for a wonderful trip. The trip was very well organized from start to finish. I really learned a lot and enjoyed myself immensely. We were extremely well taken care of every step of the way; I can't wait to come back. In fact, now that that the jet lag has worn off a little, I wish I was back already. Thank you also for arranging for us to see the Taj. It was so beautiful, well worth the long drive and the hot sun.
Jennifer Cobelli
Medical Student 4 Albert Einstein
Spiti 2004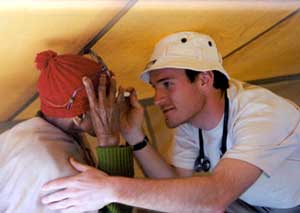 I just wanted to write and say thank-you for such an incredible experience. I had a great time and learned a lot culturally, medically, and morally. I hope in my fourth year to come back again. It is a very worthy cause, and I think the work you do is superb. Your kind and giving qualities are something to look up to.
Peter Hooley
Dalhousie Medical School Student
Spiti June 2002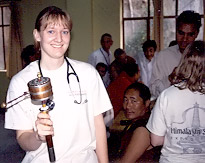 I just wanted to thank you for providing us with such a great experience. I can't believe the amount of hard work that [the staff] put in to make sure that all of us had everything that we needed. I definitely miss the beautiful surroundings and peacefulness of the countryside.
Jennifer Lynne Reedy
Medical Student
Dharamsala April 2001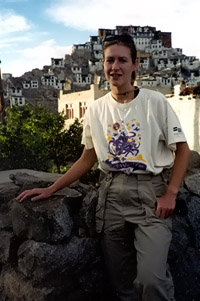 The Ladakh trip was an experience of a lifetime, and I would recommend it to anyone interested in serving those with little to no access to health care. Not only did we get to help people, but we also benefited by learning about their way of life in the most beautiful place on Earth. If I could do it over again, I would.
Amy Hayes
Medical Student
Ladakh July 2000