kargiakh (High altitude trek)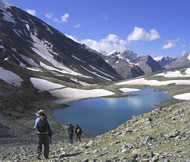 This is a medical/dental trek through several remote Trans-Himalayan villages of Zanskar (Ladakh). Team members will fly to Leh (11,500ft). After rest and acclimatization of 2 days, team members will drive to Padum and set out on a trail which is high in altitude, rough, challenging and lies above the Himalayan tree line. All clinic and campsites are located between 12,000 ft – 13,500 ft. Access to health facilities is extremely limited for the local people and the only way to get to them is on foot.
Please read Iowa Medical Students Serve Remote Villagers in Ladakh, India
tibetan settlements (inner himalayas)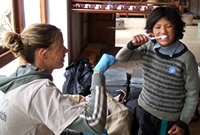 This medical & dental trek is scheduled to provide annual follow-up care to our patients in several villages, monasteries, two nunneries and an orphanage located in the Inner Himalayas. Focus is on preventive healthcare; our team will trek and drive through remote villages and settlements and address oral hygiene and reproductive health issues while visiting the young resident populations of monasteries and nunneries. Clinics will be set-up in village community centers and monastic institutions. Altitude, rain and wet ground conditions can make this a moderately strenuous experience.
outer himalayas (winter camp)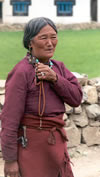 This lower altitude winter camp will cover villages in the north Indian state of Himachal Pradesh. Our team will provide care to approximately 2400 patients in out-patient clinical settings. A 3-day stay is scheduled at Dharamsala-home to exiled Tibetans and their religious leader, His Holiness, Gyatso Tenzing, the 14th Dalai Lama. Team will depart from various international gateways on their way to New Delhi. A combination of rail and road takes us from New Delhi to the Shivalik range, or the outer Himalayas. We drive through the Shivalik range covering villages and finally enter the mighty Dhauladhar or the White Mountain Range at lower elevations.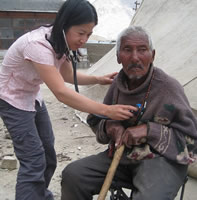 Dharamsala lies in the shadow of the Dhauladhar, or White Mountain, Range which reaches an altitude of 18,500 feet. Six miles north is Mcleodganj, home to the exiled Tibetans and their religious leader, His Holiness Gyatso Tenzing, the 14th Dalai Lama. The local population is a mix of Tibetans, Gaddis and north Indians, and the village buzzes with travelers from around the globe.
Please read 20 Days in the Himalayas: A Doctor's Journey from Cardiology Magazine.
Pangi (Greater Himalayas)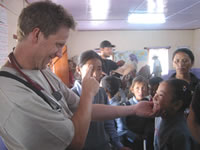 Rugged and remote Pangi lies sandwiched between the two towering Himalayan mountain ranges of Zanskar and Pir Panjal. A challenging, vehicular road takes us over the famous Rohtang Pass (13,200 feet) into Lahaul valley and, further, to the thickly forested and isolated valley of Pangi. This 20-day medical & dental expedition offers a rare opportunity to trek through a lesser-known region of the Western Himalayas. Our team will hold clinics in several villages and settlements while experiencing the land and culture that few have had the privilege to witness.
medical-anthropology expedition (spiti & dharamsala)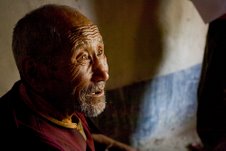 Himalayan Health Exchange organizes a medical and cultural anthropological expedition to the Indian Himalayas every summer. In order to enhance the learning experience of participants, this medical-anthropological expedition will also include socio-cultural and religious teachings of the Western Himalayas with daily yoga and meditations sessions. HHE will offer participants a practical approach to the study of India, Tibet and the Himalayan culture while attending a 6-day, preventive health camp. During their journey, team members will have the opportunity to investigate local history, religious beliefs and practices, modern human adaptations, regional effects of globalization, monastic life and local healthcare. In addition, through trekking and camping in remote areas, they will observe the interconnectedness of the magnificent natural environment with a daily local existence. This first-hand experience will be accompanied by daily yoga & meditation sessions and academic lectures. Participation is open to medical and Anthropology students of all levels.
spiti (indo-tibetan borderland)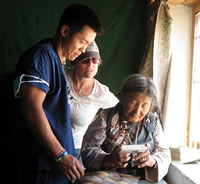 Once a part of the ancient western Tibetan kingdom of Guge, Spiti's villages provided a stop-over for trade caravans between Kashmir and Tibet. Spiti is a thinly-populated region with a population count of one person per square mile, its altitude and remoteness have limited the local health care providers to serve the region on regular basis. This is a land of 9th century Buddhist monasteries and the village of Kibber, the world's highest, permanent human settlement. Camps are set up in several villages of Spiti Valley.